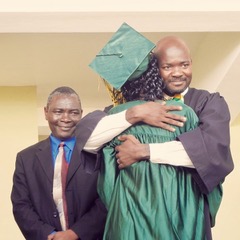 I have been doing a lot of travelling this year, and the one thing that always brings tears to my eyes is when passing through the first of the security checks as I return to Australia or the US, and  I am greeted with a "Welcome Home". It is such a profound greeting and maybe not appreciated by enough people who are often inclined to take that sense of belonging for granted.
This year we have been able to extend this greeting to Reginald Cean.  Although absent from us all in Haiti for the past few years, he has ALWAYS been present in our hearts and in the success of CFFL/ZA.
Reginald, you may remember, came to us directly from Earth University in Costa Rica to help open the doors of our new institution CFFL (Centre de Formation Fritz Lafontant) as Director of Agriculture Studies and to also lead the ongoing work of Zanmi Agrikol. Reginald did a wonderful job of leading and working with our first promotion of agriculture students. His leadership helped guide our first class of students to an amazing 100% success in both CFFL and State exams for ALL participants.  He also presided over our first graduation of 25 new Agriculture Technicians. At this point he decided to further his expertise and embarked upon a Masters Degree in Business Administration at Brandeis University in Boston. Reginald left us for three years obtaining his degree and adding an extra year of top management experience back in Haiti.
We are now thrilled to be able to say "Welcome Home, Welcome back" as he rejoins us as Executive Director of AZA (the new Association Zanmi Agrikol in Haiti) and has taken over the management reins of both CFFL and ZA. Needless to say, although there have been many new and necessary changes in both administration and activities, our new team is coming together in a very positive way. A more business like agenda has been implemented for the farm activities and the educational thrust is encompassing broader and wider possibilities for CFFL students.
I know you will all be as excited as I am with this news, and will want to extend to Reginald those wonderful words 'Welcome back". We will be especially excited to be able to share with you information and details of the activities and school progress as this new period continues to develop.