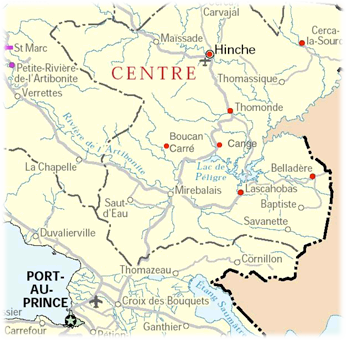 G
illaine Warne planted that first garden in 1999, to help reintroduce agricultural practices lost through centuries of mining and political turmoil, and it helped—but the need was vast.
Over the next few years, Gillaine and Charles Warne got connected with an organization devoted to treating illness and malnutrition in Haiti: Zanmi Lasante, an affiliate of Boston-based Partners in Health. The Warnes joined ZL as Zanmi Agrikol—Partners in Agriculture—and fundraised to purchase land and for growing peanuts, an instrumental food for treating malnutrition, and for teaching farming to Haitians of the Central Plateau.
Partners in Agriculture established itself as a separate 501(c)(3) in 2013, allowing for more partners to give to the work in Haiti. PIA currently operates several programs that coincide with that original mission: to end malnutrition by teaching Haitians excellent agricultural practices and equipping them with the tools they need to thrive
Founding Trustees
Gillaine Warne
Gillaine Warne was born and educated in Australia, then finished her studies in both France and New York. Upon moving to South Carolina she met Fr. Fritz Lafontant, the inspirational creator of the little village of Cange in the Plateau Central of Haiti. Gillaine has now been travelling to Haiti for over 15 years, and has concentrated her efforts in creating an agricultural program to combat the disastrous effects of malnutrition in children under 5years.
Producing and supplying the Zanmi Lasante health clinics with a RUTF (ready to use therapeutic food) and forming a Family Assistance program, she has now expanded her efforts to building a Vocational School to educate and promote sustainable agricultural programs, and up to date, safe building practices.
Her dedicated work in Haiti has been acknowledged by many, and she is the recipient of The Lettie Pate Whitehead Evans  Award,  the Garden Club of America Horticultural Award, the Order of the Palmetto, South Carolinas highest award, and been honored with a Doctor of Humanities  from Furman University. She continues to spend her time between Haiti and SC. and with what little time left between her large family and her own garden.
Charles Warne
Born in Australia, Charles Warne attended College in Sydney and was educated in agriculture and animal husbandry. He spent time farming in Outback of New South Wales raising sheep, cattle and grains.
The Director of Partners in Agriculture, Charles began his journey in 2000 after seeing great humanitarian need in Haiti. He quickly became involved in agricultural efforts in the region, raising funds for projects centered in Haiti's Central Plateau.Over time, Charles and Gillaine assisted Haitians in establishing Zanmi Agrikol to provide training and guidance in agricultural practices  with a focus in growing ingredients for a food medication for the treatment of malnutrition in children.
As he saw the malnutrition rates drop in the Central Plateau as a result of these initial efforts, Charles realized that sustainable farming and education is key to the long term success and vitality of the country. As a result, Charles has provided financing for the purchase of land. He has dedicated himself to fundraising efforts for equipment and machinery and developing and equipping CFFL, a vocational school on the farm in Corporant.
Marie Flore Lafontant Chipps
Marie Flore Lafontant Chipps is currently the executive director of the socio-educative complex of Cange, as well as the director of the social programs in Zanmi Lasante. She earned a degree in management and started her profession as a public health advocate with a family planning project in Cange that enabled women to make informed choices about their sexual and reproductive health.
As one of the leaders of Zanmi Lasante, Marie Flore has spent her career working in many areas, including water, sanitation, and education and supporting those most vulnerable, such as the elderly and orphans. She is now a member of the Board of Zanmi Agrikol, though which she is using her work ethic and positive attitude to fight and prevent malnutrition by offering seeds, trees and education.
Paul Farmer, MD, PhD
As a medical anthropologist and physician, Paul has dedicated his life to improving health care for the world's poorest people. He began his lifelong commitment to Haiti in 1983 while still a student, working with dispossessed farmers in Haiti's Central Plateau. Today, Paul is a Kolokotrones University Professor and Chair of the Department of Global Health and Social Medicine at Harvard Medical School, Chief of the Division of Global Health Equity at Brigham and Women's Hospital in Boston, and co-founder of Partners In Health. He also serves as UN Special Adviser to the Secretary-General on Community Based Medicine and Lessons from Haiti.
Paul and his colleagues have pioneered novel, community-based treatment strategies that demonstrate the delivery of high-quality health care in resource-poor settings. He has written extensively on health, human rights, and the consequences of social inequality. He has received numerous honors and is a member of the Institute of Medicine of the National Academy of Sciences and of the American Academy of Arts and Sciences.
Graham Huff
Graham Huff has been working in Haiti since 2009 as Executive Director of League of Hope. Graham created the Haiti Agriculture Virtual Technical Assistance Program, which has over 60 agriculture experts from around the world available to counterparts in Haiti at four partnership agriculture schools, including CFFL. Graham also developed the soil testing facility at CFFL, and has provided for training the personnel now responsible for operating the soil lab. Graham implemented a USAID Farmer-to-farmer project which trained scores of Haitian agronomists in advanced agricultural techniques to improve crop yields in Haiti. Graham received a BS and MS degree in Industrial and Systems Engineering from Georgia Tech, and received a UPS scholarship for a professional certificate in Humanitarian Logistics from Georgia Tech.
 Watch Partners in Agriculture's Journey